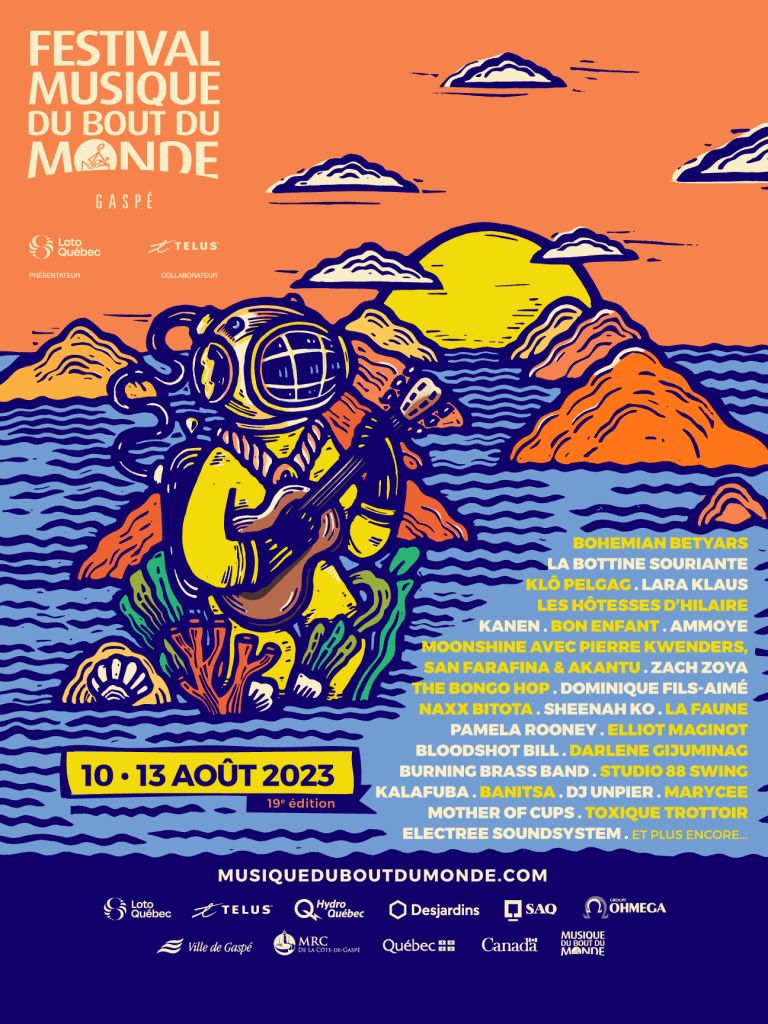 Unveiling of the complete program for the 19th edition of the Festival Musique du Bout du Monde (FMBM) with Bohemian Betyars, Klô Pelgag, Les Hôtesses d'Hilaire, La Bottine Souriante, The Bongo Hop, Bon Enfant, Zach Zoya, Ammoye, Moonshine with Pierre Kwenders, San Farafina and AKAntu and many more!
From August 10 to 13, the 19e edition of the Musique du Bout du Monde Festival in Gaspé will surprise with its eclecticism and the diversity of its artistic offerings. Driven by its vision, the FMBM team will once again offer unforgettable encounters thanks to a unique alliance between world cultures and the majesty of our territory.
NATURE AND THE ARTS, A COMBINATION THAT PROMISES GRANDIOSE MOMENTS
Whether it's a spectacular sunrise concert at Cap-Bon-Ami, a rendezvous at Mont-Béchervaise with its breathtaking view of Gaspé Arche de l'Éveil Collectif, with sailboats in the background, or the magnificent rue de la Reine animated by Les journées du Bout du Monde, everything is cleverly thought out and staged so that the beauty of the landscape, combined with the rich programming of FMBM, offer breathtaking experiences.
The Hydro-Québec stage, under the big top, will host three evenings of two shows on August 10, 11 and 12. The band Bohemian Betyarswill kick off the festivities with their speed-folk freak-punkspeed-folk freak-punk, which plays with all the codes of Balkan music. They will be followed by Hôtesses d'Hilaire whose psychedelic progressive rock is strongly influenced by 70s music. For the second evening, it's the unique reggae ofAmmoye, where old-school rocksteadyold-school dancehall and dubstep to kick off the evening. She will be followed by the legendary group La Bottine Souriante, who travel the world performing modern music rooted in tradition, promising an epic family party to remember! This series of three unforgettable evenings will conclude with a performance by Bon Enfant, a a group of veritable stage superheroes, whose phantasmagorical music features groovy groovy pop-rock. These concerts under the big top will conclude with a very special evening with the collective Moonshine, formed by Pierre Kwenders, San Farafina and AKAntusurrounded by musicians, VJs and dancers. This collective has become a clubbing and electronic music in Canada and abroad with its wide range of Afro-electronic talent.
The Loto-Québec stage on the rue de la Reine will host several free free concerts. This is Pamela Rooney, a native of Douglastown in the Gaspé Peninsula, will open the stage. Country music has been running through her veins for as long as she can remember. A native of the Innu community of Uashat mak Mani-Utenam, Kanen, will present her new show, marked by poetry and punk energy, which will leave audiences with strong emotions. Naxx Bitotaborn under the sun of the Democratic Republic of the Congo, will offer a "MutuashiAfrorythme Mutuashi accompanied by powerful energy and inspired by the different rhythms she has encountered in Africa. The performance by Zach Zoyaan artist who stands out on the Montreal hip-hop scene for his ease with words, melodies and flowswill also be performing on this stage. Finally, it's Bongo Hop will close the festivities on the Loto-Québec stage. This group is the equivalent of a tropical storm served up with hot brass, groovy grooves electric sounds and heavenly vocals.
Thes 10, August 11 and 12, Lara Klaus, Elliot Maginot and Dominique Fils-Aimé will be performing on the scène TELUS au sommet du Mont-Béchervaise offering spectacular encounters in one of the most beautiful landscapes on the Gaspé Peninsula.
The arrival of Klô Pelgag at lever du soleil at Cap-Bon-Ami in the national park Forillon was eagerly awaited. Barely a few days after the opening of the ticket office, the entires 700 tickets on sale for this signature concert had foundé sold outs.  
The concert series Notre Bout du Mondeconcert series, powered by Hydro-Québec, will showcase talented artists for intimate intimate concerts. A multitude of festival venues will host this series, which presents emerging emerging artists-e-s and local artists. Among the artists presented-e-s in this series include Darlene GijuminagMother of Cups, Banitsa, Bloodshot Bill, MaryceeDJ UNPIER, La Faune, Sheenah Ko andElecTree Soundsystem.
PASSPORTS AND TICKETS
Festival-goers can purchase their passports for all three evenings on the Hydro-Québec stage under the big top, while passes for shows on the TELUS stage at the summit of Mont-Béchervaise are available for $48 or $24 per show. Tickets are available online at www.musiqueduboutdumonde.com/billetterie.