SUNRISE SPECTACLE August 13, 2023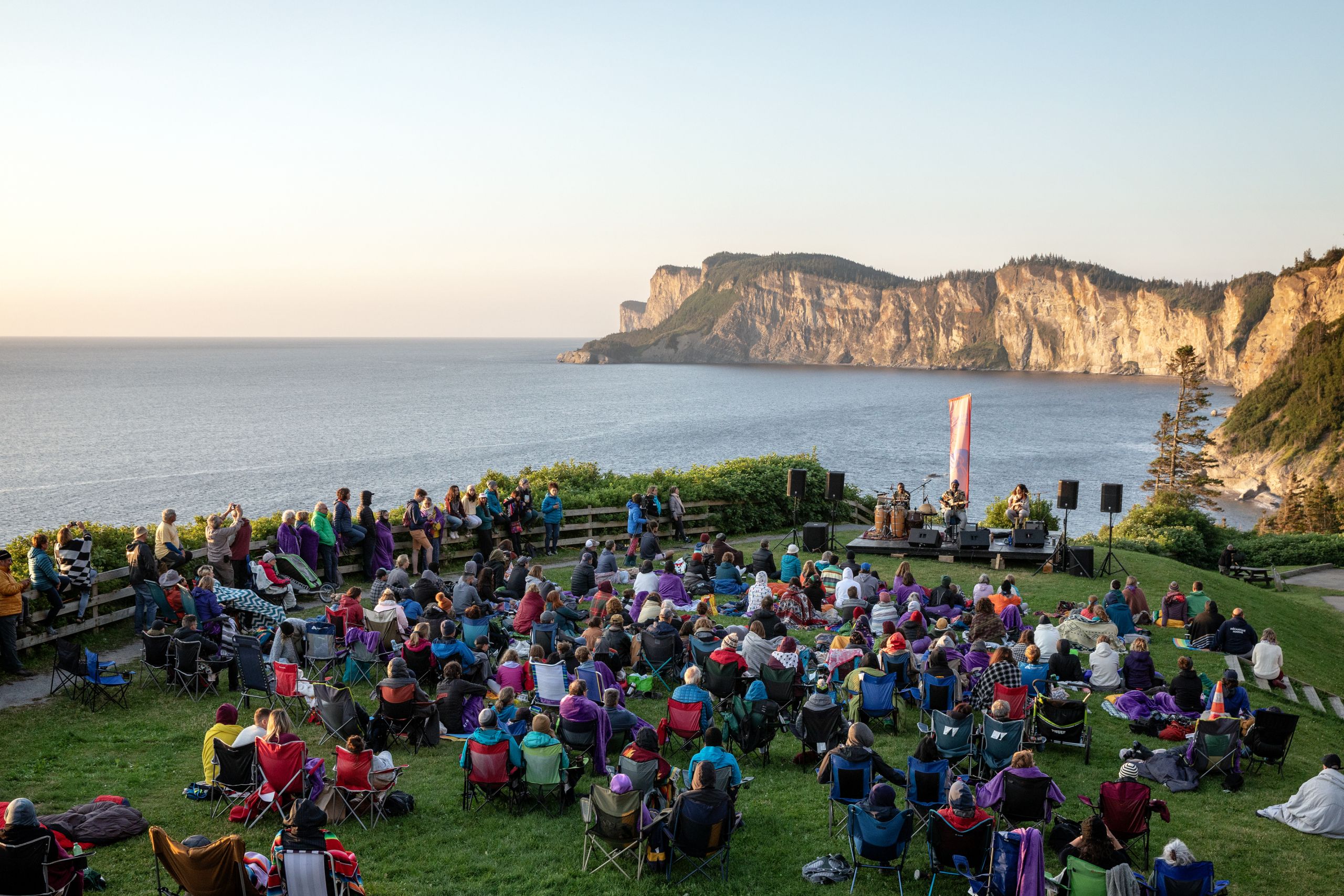 A must-see outdoor show at Cap-Bon-Ami in Forillon National Park, a half-hour drive from Gaspé.
No show tickets to be sold at Forillon National Park on the morning of the show. Ticket holders must have their access right to Forillon National Park to enter the site. One-day passes are on sale at the festival box office. For season passes, please visit the Parks Canada website.
Coffee will be available on site and served by the Griffin Cultural Center team!
To maximize the comfort of your experience, it is recommended that you bring a blanket or chair to sit on and, if desired, a thermos cup.
Access to the parking lot in the northern sector of Forillon National Park will be possible starting at 3:20 a.m.
Please note that in case of rain, the show may be held.
Ticketing for the sunrise show
Tickets for the Sunrise concert are on sale in the ticketing of our website.
By car from Gaspé to Cap-Bon-Ami
Parking is limited, so we strongly encourage you to carpool or take the shuttles available for $10 at the ticket office (see product shuttle from downtown to Cap-Bon-Ami).
Arrive no later than 3:30 - 4:00 a.m. to allow time to get to the site and make yourself comfortable. From the parking lot, allow for a 500 meter walk to the Cap-Bon-Ami plateau.
Shuttle from Gaspé to Cap-Bon-Ami
A shuttle to Forillon National Park is offered to ticket holders. Places are limited and you must reserve on our online ticketing service at a cost of $10.
Walk from Grande-Grave to Cap-Bon-Ami
Walk of approximately 30 minutes to arrive at Cap-Bon-Ami for the Sunrise show on foot. Presented by the Traversées de la Gaspésie (TDLG)
Rendezvous at the Grande-Grave for a departure at 3:45 am
Reservations can be made online when you buy your ticket for the show, or by calling TDLG at 418 368-8803
Shuttle information.
To board the shuttle it is necessary to :
Have reserved your place for the shuttle from Gaspé to Cap-Bon-Ami;
Have your ticket for the show
To have the right to enter Forillon National Park
Departure from Gaspé (one-way shuttle)
Starting location:

10 Côte-Carter, Gapsé, G4X 1V2 (at the base of the Breezeway stairs).

Boarding time : 3h15
Departure from Cap-Bon-Ami (return shuttle)
Departure point: Cap Bon Ami parking lot
Boarding time: 6:15 am