Sunrise Show will be back in 2022.
Tickets will be online on april 8, at noon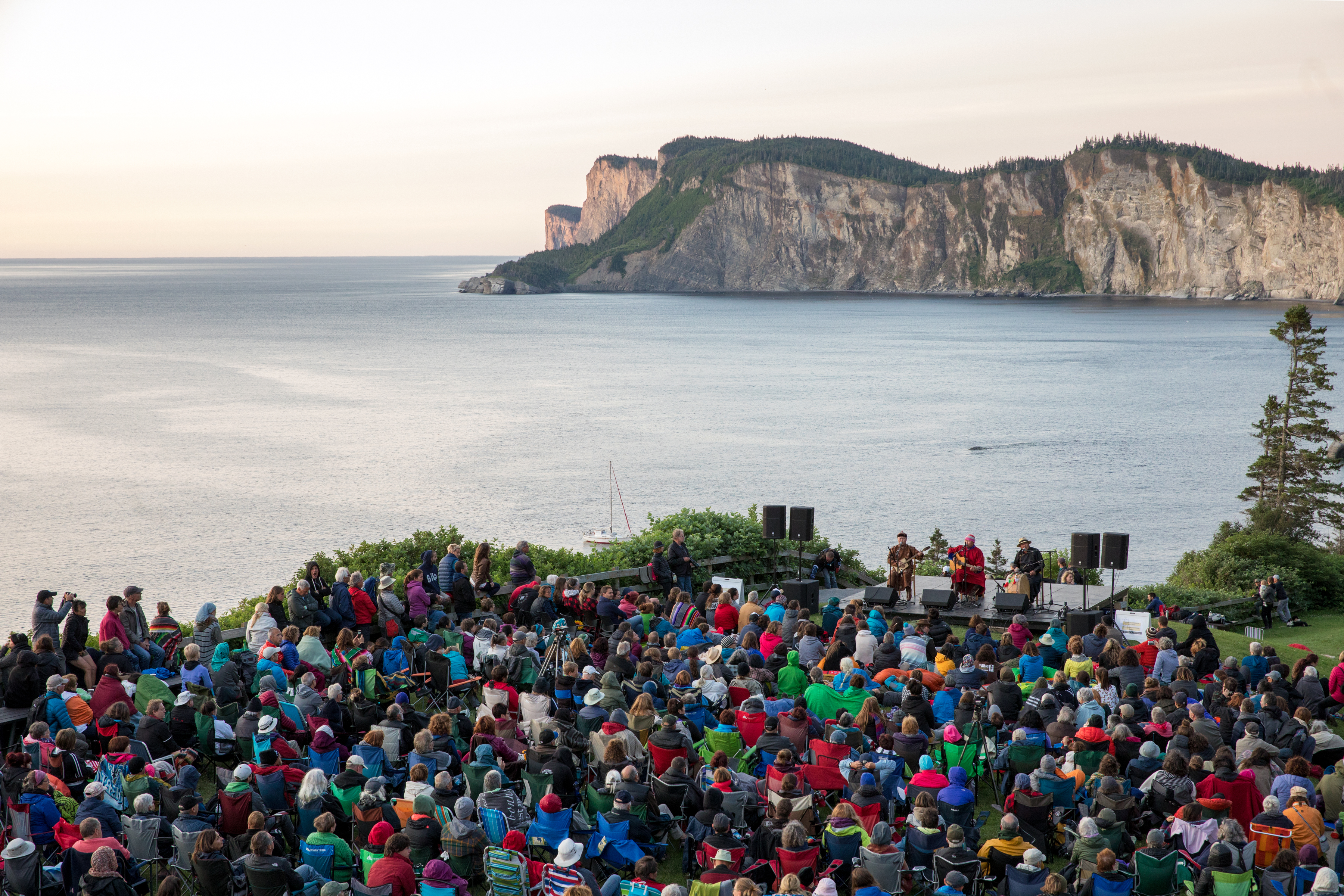 Unique outdoor show at sunrise at Cap-Bon-Ami in Forillon National Park, a half-hour drive from Gaspé.
No tickets will be on sale the morning of the event at Forillon National Park.
Coffee will be available on site, as well as some treats from the Café des artistes, served by the team from the Griffon Cultural Centre !
In order to make your experience enjoyable, we recommend bringing a blanket or chair to sit on, as well as a coffee mug.
The North Area entrance at Forillon Park will be open from 2 am. There are also camp sites in  Forillon National Park.
Ticket Office
Tickets office will open in the near future.
Parking at Cap-Bon-Ami
You're coming by car ?
Arrive no later than 3:30 – 4 am to have enough time to access the show site and get settled. The show site is an easy walk of 400 metres from the parking lot.
Shuttle from Gaspé to Cap-Bon-Ami
A shuttle service to Forillon National Park is available for the first 160 show ticket-holders, for a charge of $10.
Walk from Grande-Grave to Cap-Bon-Ami
Easy 30-minute walk for those who would like to arrive at the sunrise show on foot. Presented by Traversées de la Gaspésie (TDLG).
Meet at the Grande-Grave trailhead for departure at 3:45 am.
Reserve online when buying your concert ticket, or phone TDLG at 418-368-8803.
Shuttle Information
To get on the shuttle you MUST:
Have reserved your place on the shuttle;
Have your ticket for the show;
Have your park pass for Forillon National Park.
Departure from Gaspé
Boarding point: parking lot in front of Place Jacques Cartier
First boarding time:  3:15 am
Final boarding time:  3:30 am
Return to Gaspé
First boarding time at Cap-Bon-Ami : 6:15 am
Final boarding time at Cap-Bon-Ami : 6:30 am
Arrival in Gaspé : 7 am

Please note that in case of rain, the show might be maintained.